Planning to buy a 2.1 Home Theater? But don't know what are the best Home Theaters in India, and how to choose them? So, we come up with this exclusive list of best Speakers in India which enhance your experience of hearing the music.
There are many types of speakers available including simple 2.1, 5.1, Floor standing, Soundbar, Bluetooth, Wireless etc. but it depends on your requirements, uses, and space available in your room.
The best 2.1 home theaters in our list are best suited for those who want some decent, high-quality sound speakers that offer the requisite volume and clarity. Browse our complete list below to compare prices, read specifications, and view pictures etc.
Creative SBS E2400 Home Theater System
Take your entertainment quotient to another level with the Creative E2400 Home Theatre System. These speakers are multipurpose and can be used to connect to almost every audio device. The home theatre system comes with 2 speakers and one sub-woofer. It produces a raw audio power of about 25 watts. This home theatre system can be used in many ways. It is the ideal choice for all movie fans, music lovers, and gaming fanatics. It connects to the TV, DVD Player and smartphones as well. The Creative SBS E2400 is built for superb audio performance with multiple connectivity options in mind including a built-in FM radio, 3.5mm stereo input, RCA connectivity and USB memory flash drive support.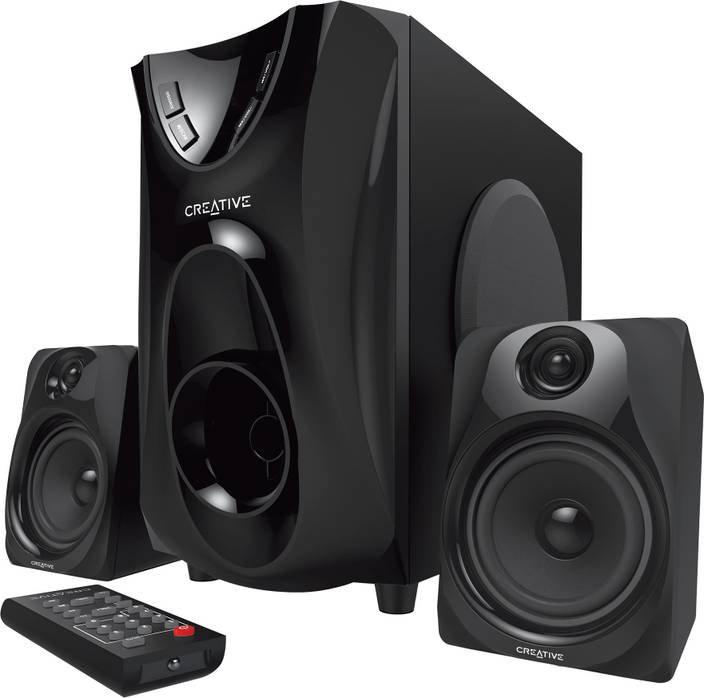 Philips IN-MMS6060F/94 2.1
If you are looking forward to enjoying music at its best, go for Philips Thunder IN-MMS6060F 2.1 Multimedia Speakers. The two satellite speakers and the subwoofer feature a wooden cabinet that enhances the bass effect 6000 W PMPO. The 2.1 channel configuration Supports FM radio Connect a USB drive to the USB port to listen to its auditory contents too. In addition, the speaker can also be connected to any mobile device using a 3.5mm universal audio jack.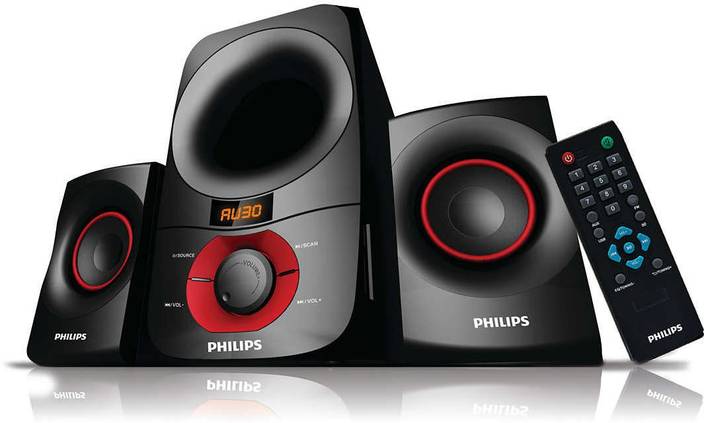 Creative SBS-E2800 2.1
The Creative SBS E2800 speaker system has been designed to be your one-stop solution for all your audio needs. The E2800 comes with an abundance of connectivity options and features; it accepts 3.5mm inputs, RCA via cable, SD card, USB thumb drive support, and a built-in FM radio receiver with memory to store your favorite stations. You can easily connect it to the TV, DVD player or even your smartphone for all of your favorite tunes. The speakers are capable of producing an output of 50 Watts. Be absolutely blown away by its powerful audio performance for your movies, music or gaming!
Zebronics BT3440RUCF 2.1
ZEB-BT3440RUCF is a 2.1 multimedia speaker with elegant design, high glossy front panels with features like USB/AUX/SD support. USB connectivity is also offered with this speaker from Zebronics which will ensure that you are able to connect it with pen drives. The speaker also features a 3.5 mm jack, which will let you enjoy music anytime you wish as you can connect your mobile devices to it. An AUX port is also present, which will offer even larger connectivity features for use. The sound output of these Bluetooth Speakers is 1000 watt.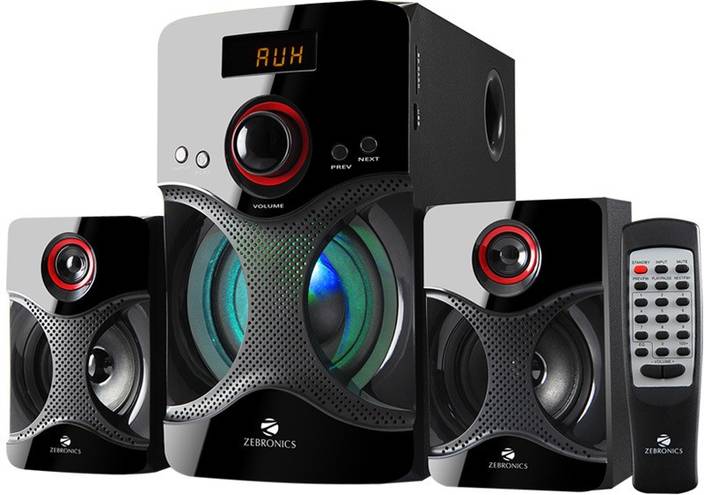 Sony SRS – D9 2.1
The Sony SRS-D9 2.1 Multimedia Speaker System is a utilitarian sound system that offers complete clarity and sharper sound quality. It comes with a powerful sound delivering technology that produces distortion-free sound and enables you to listen to every sound beat effectively. The USB connectivity feature offers universal access to various devices and makes it easy to share playlists. The 28-150 Hz frequency range and cutting edge sound technology ensure that you get to experience high-quality sound. This Sony speaker system comes with a plethora of connectivity features that allow you to connect it to various devices.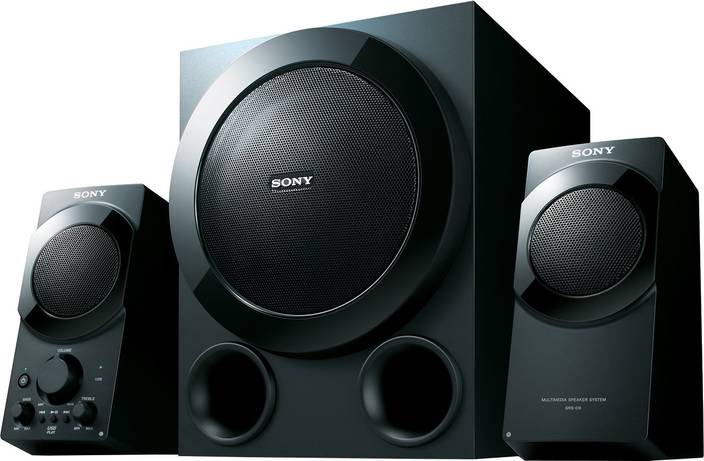 LG LH70 B 2.1
Enjoy your favorite music on mobile devices through LG LH70 B 2.1 Speakers with wireless audio streaming via Bluetooth. Select from a wide variety of available radio stations and Tune to listen to your favorite FM radio shows and music with the help of 50 Presets. Connect to your DTH with LG 2.1 speakers Via RCA Input to enjoy the sound effect. You can enjoy TV Contents with more realistic sound. Connect to your PC, Laptop, Tablet, Game Console, and Mobile Phone with LG Multimedia speakers Via RCA Input to enjoy the sound effect. You can enjoy the content with deep bass effect.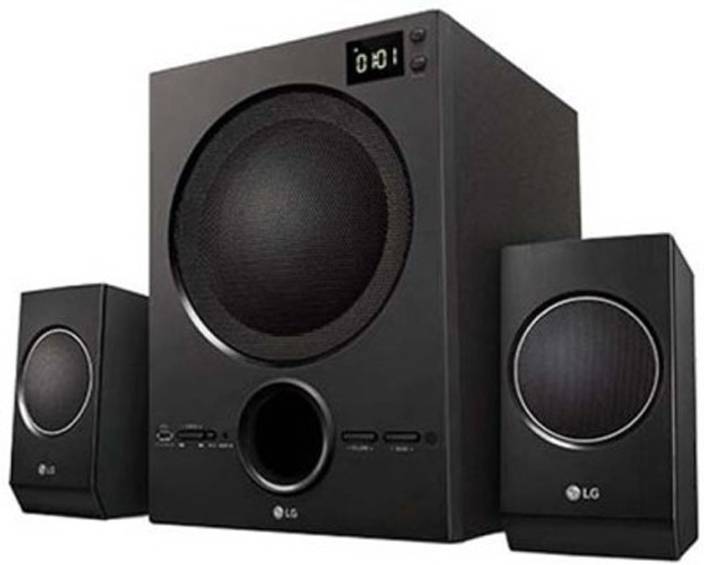 F&D T-400X 2.1
Immerse yourself into the mesmerizing realism of the floor standing F&D T-400X speakers. These speakers will provide you a realistic experience while watching a movie or a sports match. The F&D T-400X speaker system has a slim satellite design which is sure to compliment your home decor with its sleek looks. It fits in very easily to any compact area. F&D T-400X has a Bluetooth Version 4.0 to serve you with better options for playback. It is powered by Cambridge Silicon Radio chipset, which is commonly known as CSR. Also, it has an NFC function for greater connectivity. Play media from the USB or SD card reader without a hitch on your F&D T-400X. The card reader supports MP3 or WMA dual formats decoding to play your preferred song.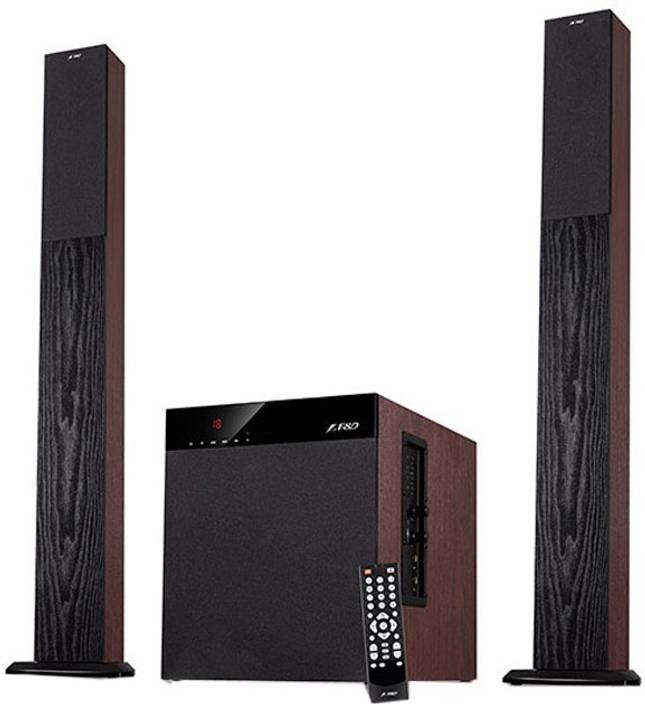 Philips HTL3140B/12 2.1
Place the Philips HTL3140B/12 2.1 CH Bluetooth Wireless SoundBar Speaker anywhere in your room as per choice and enjoy cinema-like omnidirectional audio, courtesy the multi-channel Virtual Surround Sound technology of this SoundBar Speaker Set. Share your tracks, films, and videos easily via Bluetooth from your tablet, mobile phone, and PC. You can also make this input process more convenient for you by using your NFC-compatible (Near-Field Technology) smartphone or tablet. For directly playing music from your iPhone, iPad, iPod, notebook or MP3 player, you can sync with the audio-in port on this CH Wireless SoundBar Speaker Set. Your MP3 player can also connect with the Music iLink MP3 port on the SoundBar Speaker by a 3.5 mm stereo audio cable so that you can play your favorite MP3 tracks. The EasyLink is to let to operate your HMDI-CEC enabled TV, DVD/Blu-ray player, home theatre, Philips SoundBar Speaker and more with the provided remote control device.
iBall Tarang Red 2.1
Buy iBall Tarang Red 2.1 Multimedia Speakers at a low price in India. The multi-input feature makes it feasible to use Aux, SD Card, USB or MSB. It also comes with a built-in FM radio and eases its usage with the help of remote control. With its perfect blend of luxury and functionality will simply mesmerize everyone with not just its design but also its sound quality. Developed with a Grill and a high gloss front panel, iBall Tarang 2.1 Red will match your sense of fashion.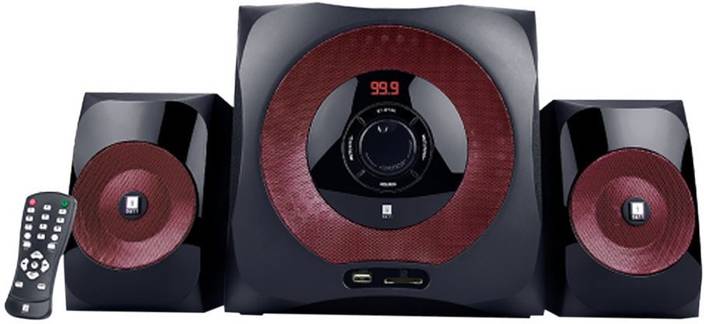 Philips MMS-4545B 2.1
Whether it is for listening to songs, playing games, watching movies or videos, this multimedia MMS-4545B 2.1 speaker set from Philips is what you need to experience powerful sound and rich bass. This speaker set has Bluetooth connectivity, so you can stream music from your smartphone, tablet, laptop, iPod or iPhone without the hassle of any wires. You can also enjoy the convenience of accessing your favorite music and photos through the USB and SD card slots. This black speaker set features a built-in FM tuner, so you can tune into your favorite radio station and enjoy listening to songs, your favorite RJs or news anytime you want.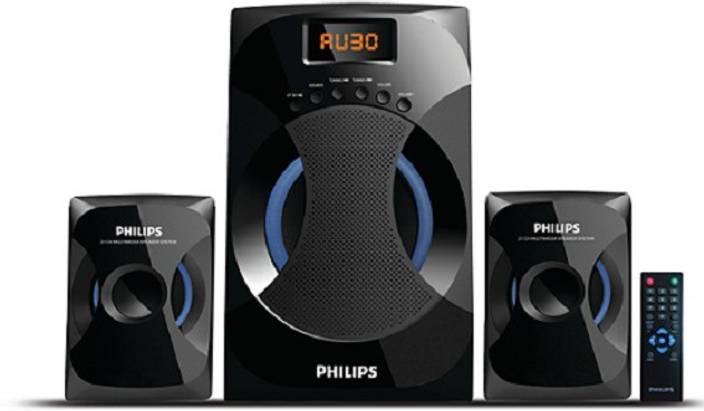 Creative T3150 2.1
Immerse yourself in the powerful and melodious sound quality of these Creative 2.1 wireless speakers. Enjoy your music wirelessly with the Creative T3150 Wireless 2.1 speaker system. Equipped with Bluetooth wireless technology, it works with compatible Bluetooth-enabled stereo devices such as mobile phones and laptops, providing additional connectivity on top of the usual wired connection. The Creative Image Focusing Plate (IFP) design features an extended flare surrounding the satellite driver to provide an even wider acoustic sweet spot.