Now enjoy your favorite music on your 5.1 Home Theater Speakers. To help you in finding the best 5.1 Home Theater System in India according to your budget and need, here we have compiled a list which has top multi-functional Home Theater Speakers.
In the list, all mentioned Home Audio Systems are here to give you a thoroughly entertaining audio experience. View our complete guide and find the best one according to your requirements. Good luck!!!
Sony HT-RT40
Bring home the Sony HT-RT40 5.1 home theater system and feel the powerful surround sound that it creates. Experience a musical drama with the real surround sound and the Dolby Digital technology. Immerse yourself in high-quality audio with separate audio channels and Dolby Digital technology. Feel the powerful impact that this home theater system while watching movies, listening to music or playing games. Stream more music and movies with the USB drive, and manage playback with the HDMI cable (on-screen) or the Sony Music Centre app on your phone.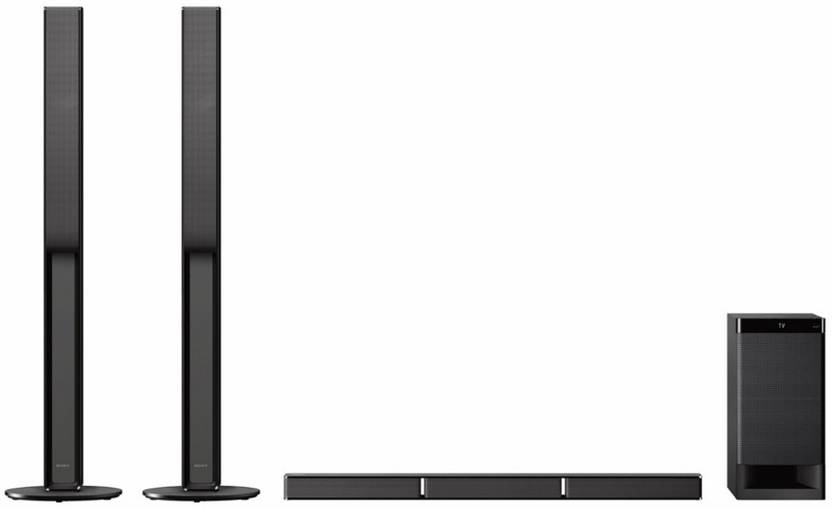 LG LHB625
Enjoy a cinematic aural experience in the comfort of your home with this LG Home Audio System. LG HB625 5.1 Blu Ray Home Theater System is designed to offers an ultimate combination of innovation and technology to offer the best of home entertainment. It is Bluetooth Compatible to enable you to play your favorite music from your mobile phone through this LG home audio system. This home audio system offers a 5.1 channel audio and 1000 W of power to give you an authentic cinema experience in the comfort of your home. It provides easy connectivity options that include an RJ 45 port, an HDMI output port, and a USB port.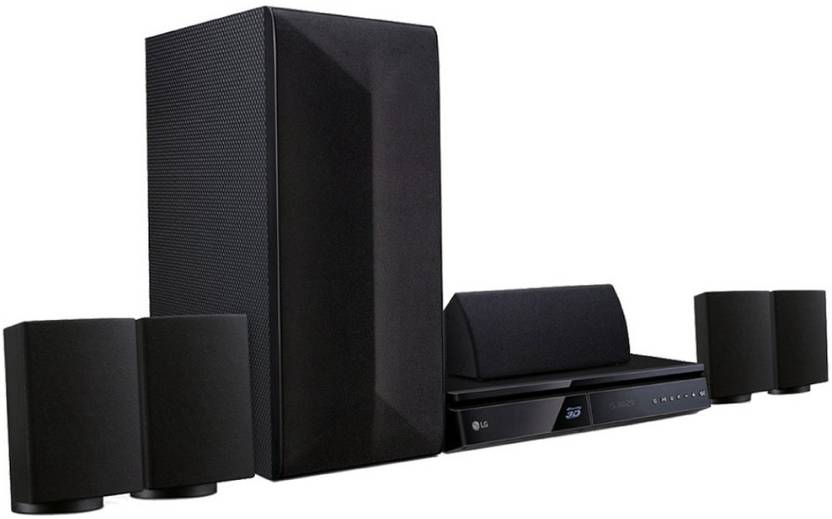 Sony DAV-DZ350
Enjoy the best of digital audio with the S-Master digital amplifier. Whether you're watching movies, listening to songs, or playing games online, this Sony home audio speaker is designed to enhance your experience. Its 5.1 channels and its 1000 W total power output, coupled with its S-Master digital amplifier offers you a surround-sound experience. Pair your smartphone or tablet with this Bluetooth-enabled theatre system, to control your playlists and the volume with your device.

Sony HT-IV300
Now you have the opportunity to transform your home into a mini theatre by installing the new Sony HT-IV300 5.1 Home Theatre. The NFC connectivity of Sony HT-IV300 5.1 Home Theatre will help you connect to any mobile device. The AUX port present in this home theater system will let you connect these speakers to your desktop, PS3, Xbox 360, Wii, iPod, DVD player and other media players. Play games or watch movies with the high audio quality rendered by this set of speakers. There are 2 HDMi ports which will let you watch content in high definition seamlessly. The built-in Bluetooth feature will let you enjoy audio visual media without the need of connecting the two devices with a wire.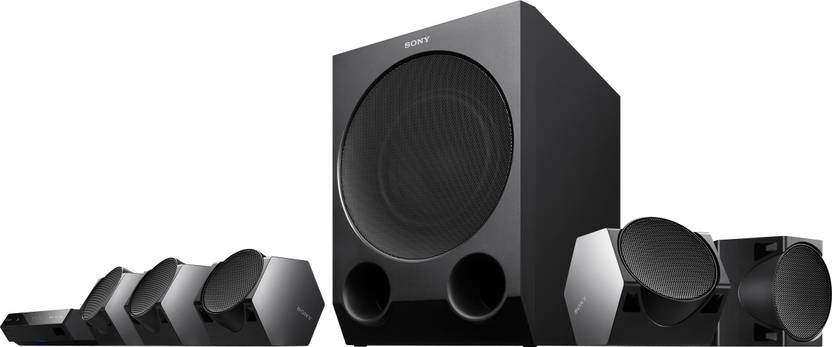 Philips HTD5520/94 5.1 Home Theater
Bring home the best of entertainment with this Philips home theater system. The Philips HTD5520/94 Home theatre is an ideal appliance to enhance your multimedia experience. It comes with powerful sound technology that delivers perfect sound quality and comes with enhanced features like Dolby sound and bass pipes that deliver sharp and crisp sound. The HDMI technology enables you to watch visuals with better quality and experience more sharpness. The Karaoke feature is useful as well.

Samsung HT-J5100K/XL 5.1 Home Theater System
Buy Samsung HT-J5100K Blu-ray Home Theatre System (Black) online. The Samsung HES J5100 values audio just as much as visual. You can stream content from VCD, DVD, and Blu-ray players. When it comes to audio, this audio system is all about delivering deep and powerful bass. This home audio speaker setup is designed to radiate sound vibrations through the system so all low notes are evenly reproduced. Its bass is rich and deep, unlike anything you've ever heard.

Sony HT-RT3 5.1 Home Theater System
Enhance your home entertainment experience with the Sony HT-RT3 Sound Bar type Home Theatre System. It features Bluetooth connectivity to wirelessly stream music from your smartphone. Wired rear speakers and an external subwoofer work with a 3ch soundbar to deliver deep, room-filling sound, while the S-Master digital amp minimizes distortion. You can easily enjoy all your music and movies with USB video 1 and audio playback. The HDMI ARC (Audio Return Channel) means audio is also carried back to your sound bar from compatible TVs, without the need for an extra audio cable.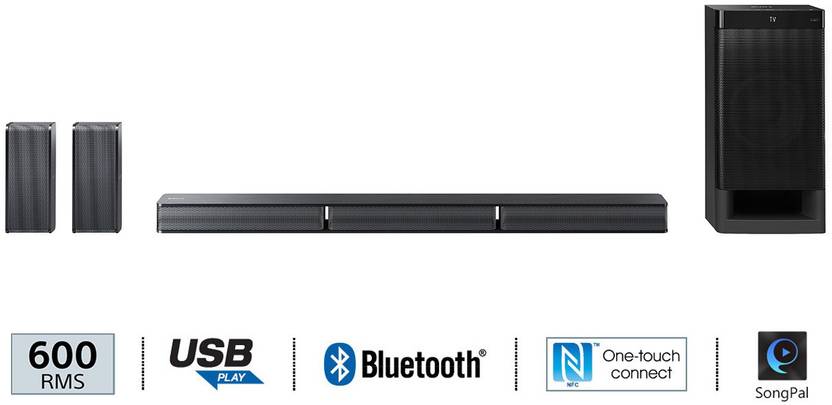 Samsung HT-E450K 5.1 Home Theater System
Get the best online deal for Samsung HT-E450K Home Theatre System. A complete karaoke set-up allows you to sing-along to your favorite tunes. It supports CD, DVD, and MP3. Crystal Amplifier Plus delivers high-quality sound while Connect Share movie allows you to access all your favorite content. An MP3 enhancer and power bass give high-quality deep sound. HDMI ARC connects compatible devices to the television. You can also connect your USB memory drive or HDD to your entertainment system and enjoy watching your favorite films and programs. Overall, the Samsung Home Theatre system is an absolute must-have.
Sony DAV-TZ145 5.1 Home Theater System
If you a movie buff, a music lover, and a sports enthusiast, then this Sony 5.1 Home Theatre System is a must have as it brings the cinematic experience right into your home. With its rich audio and high definition video quality, watching movies will never be the same. The Sony Home Theatre System comes with accessories that help ease your use of the system, which includes 5 speakers, 1 sub-woofer, 1 remote control, 2 batteries, 1 FM antenna, 1 video cord and 5 speaker cords. The Sony home theatre system comes with a vast variety of connectivity options with one HDMI output, one USB port, one composite video output and an audio line analog in/out.

Sony SA-D10 Multimedia Speakers
Immerse yourself in top quality audio beats with the help of Sony 4.1 multimedia speaker system. Coming in a 4.1 channel configuration, these speakers will ensure that every corner of the room receives a balanced sound value. Experience the thumping bass beats with extra-large wooden sub-woofer and a powerful 70W output. It generates a frequency response from 40 Hz to 20 KHz. It also comes with a 12-ohm impedance value. With USB playability and remote control, it's easy to connect and control from your PC, TV, music players or even your smartphone.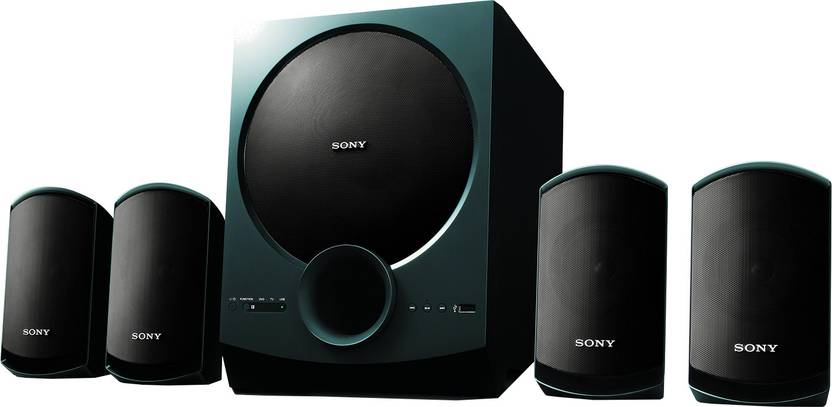 Philips SPA7000B Multimedia Speakers
Buy the Philips SPA7000B 5.1 channel speaker and get your house party rolling with loud and clear audio output. Whether you're relaxing by watching a movie on TV, by listening to music or playing video games, you can enjoy stunning sound clarity and a rich bass with this home audio system from Philips. This speaker system comes with a subwoofer, five satellite speakers and a remote control to play, pause and shuffle tracks. It is compatible with your MP3 player, PC, TV, CD, DVD and other audio devices. This audio system has a Bluetooth connectivity option, so you can easily connect it to Bluetooth-enabled devices like smartphones, tablets or even laptops, and stream your favorite music from them. You can also listen to your favorite radio channels every day as this system comes with built-in FM radio. With the help of the USB port and SD card slots, you can enjoy listening to your playlist without any hassle.