Are you looking for the best 5.1 home theater system for your home? Then continue read our list below and find the several options under ₹ 6000.
In order to help you, we have prepared a list of some of the best 5.1 Home Theater Systems that can help you to get the best product either online or from your nearest electronic shops, well within your budget.
View our complete list to compare home theater prices and other key information now. Enjoy the music with your favorite sound system!!!
F&D F3800X Speakers
Buy F&D F3800X 5.1 Speaker online at best price in India. This speaker from F&D comes with the 4.0 version of Bluetooth. Bluetooth is a wireless technology standard for exchanging data over short distances. Bluetooth 4.0 makes data transfer faster and easier. This speaker comes with a fully functional remote control. You can turn over to your favorite FM station and listen to your favorite songs using the numeric buttons of your remote control. This device supports USB and SD cards. This makes storage of data and data transfer much easier. This speaker by F&D comes with a multi-colored LED panel and 5.25″ bass driver for the subwoofer.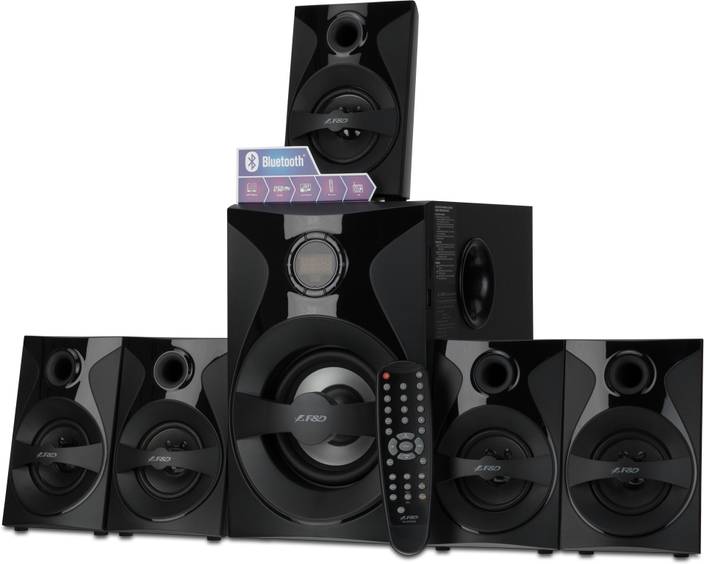 Mitashi BS-120BT Home Theatre System
You can now turn your living room into a movie theatre as you procure this home theatre system from the house of Mitashi. Buy Mitashi BS-120BT 5.1 Channel Home Theatre System online. Attach it to your DVD player set to enjoy a groundbreaking audio experience. Additionally, it is light in weight, thereby indicating that you will not have much hassle while carrying this Mitashi Bs-120bt 5.1 Home Theatre System with 8500 W Pmpo around. It also has remote control functionality so that you can easily operate this home theatre system without any hassle. This is 5.1 channel type speaker systems which are compatible with devices like mobile phone, PC, Laptops, MP3/MP4 players. It supports Bluetooth, AUX, MIC, USB Playback, and SD Card Playback to name a few.
Zebronics BT6590RUCF Multimedia Speakers
You can now enjoy an exceptional musical experience with Zebronics 5.1 Channel Multimedia Speaker. The exemplary multimedia speaker comes with built-in 5.1 channel amplifier, five satellite speakers, and one subwoofer, allowing you to hear sharp and detailed audio. Each satellite has a driver of 2.7inches and the subwoofer comes with a driver of 4-inches, to provide with great bass. The speaker also offers a high definition output of 65W RMS and frequency response of 40Hz to 20 KHz, letting you enclose your home with power-packed sound. It is enabled with 2.0 USB port and also has 3.5mm jack to plug and play. This makes the speaker easily compatible with multimedia devices like DVD players, Laptops, desktops, MP3 players and mobile phones. It also has a built-in FM, so that you can enjoy best of both the worlds.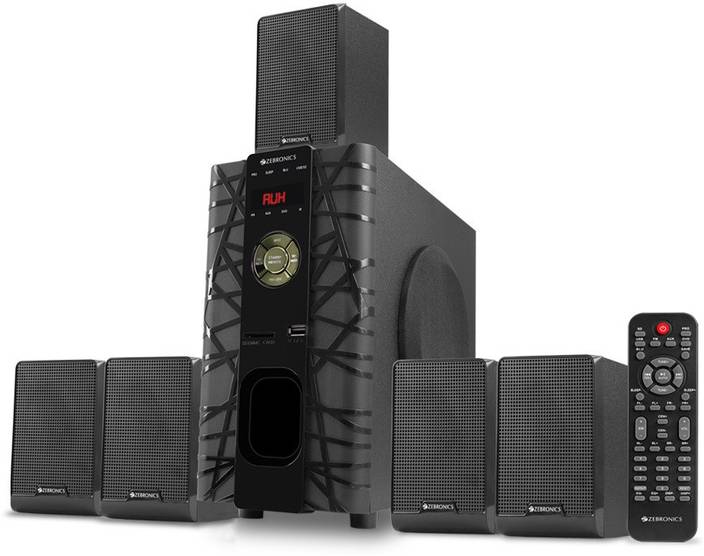 Creative Inspire T-6300 Multimedia Speakers
Let the Inspire T6300 5.1 surround speaker system elevate your movie, game and music experience to new heights! With Creative Dual Slot Enclosure (DSE) design, the speakers are ingeniously constructed to produce louder, more pronounced mid-bass out of their compact shells. The speaker system comes with bold front satellites, smaller rear and center satellites, plus a powerful down-firing ported subwoofer for explosive bass. It makes the perfect complement to any desktop computer. Surround yourself with the most compelling 5.1 audio experience today with the Inspire T6300!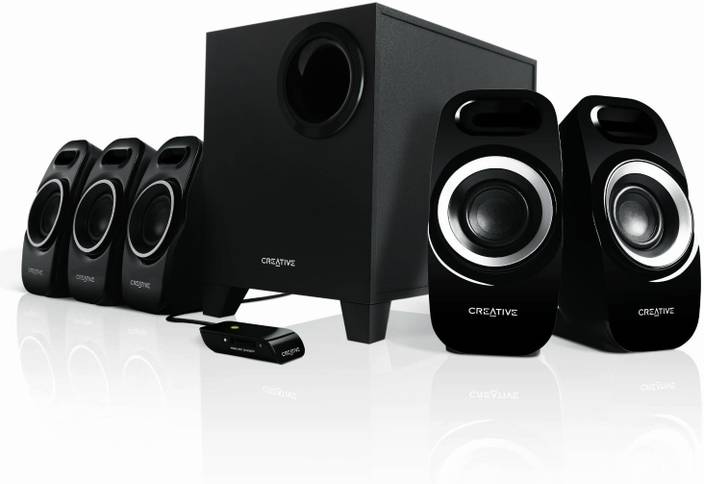 iBall Booster BTH Multimedia Bluetooth Speakers
Get an enriching sonic experience with every medium of entertainment with this iBall Booster BTH 5.1 Speaker System. It is a 5.1 speaker set that is crafted to deliver extraordinary sounds. The primary feature of this set is that it has Bluetooth connectivity which makes it a truly multimedia type of set up. It also has an inbuilt FM tuner and multiple USB ports to enhance your options for use. It has an incredibly powerful sound output of 240 W RMS. You can also enjoy the FM stations you like with its inbuilt FM tuner. It has Bluetooth connectivity and four USB 2.0 slots through which you can plug & play music directly from external devices.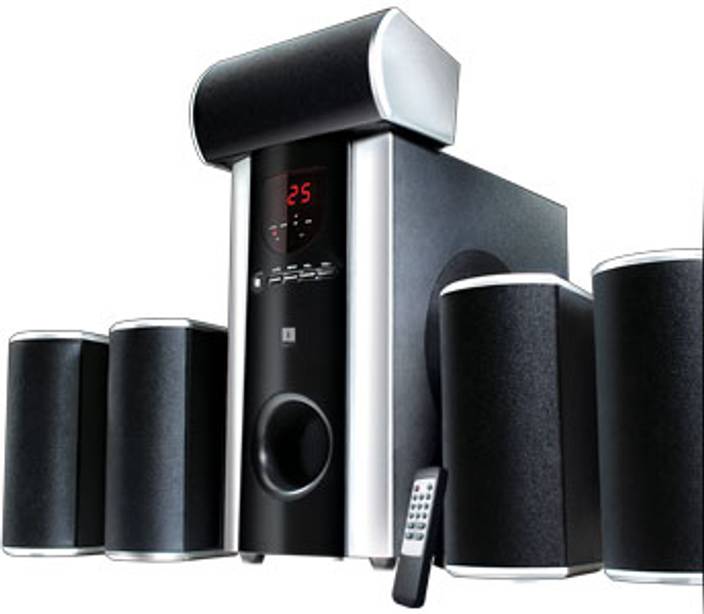 Logitech Z506 Multimedia Speakers
The Logitech Z506 5.1 speakers come with a 3.5-mm audio jack, six channel direct audio cables as well as color-coded speaker cables for easy identification by the user. You've got the flexibility to set up your system the way you want to. Connect your PC, PS3, Xbox 360, Wii, iPod, DVD player, and more. The RMS of the Logitech Z506 5.1 Speaker System is 75 watts which is divided among the satellite speakers and the subwoofer. The highly-efficient speakers are going to provide you with the perfect mixture of bass and treble in each and every corner of the room.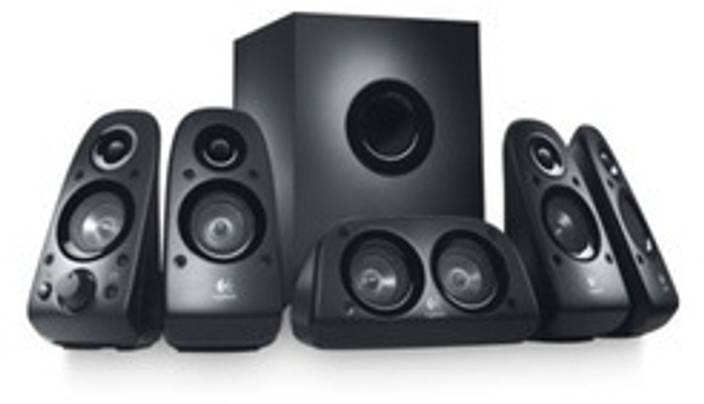 Philips SPA4040B/94 Multimedia Speakers
If you love watching movies, playing high-end games and grooving to the feet-tapping music, then this Philips laptop speaker is what you need to get to enhance your audio experience. Simply connect this laptop speaker via Bluetooth and play your favorite music from your any Bluetooth device. You can access more music from your USB flash drive and your phone's SD card by simply connecting them to these speakers. With this Philips speaker, you can watch movies in a theater-like ambiance, so thanks to its 5.1 surround sound and rich bass. The built-in FM tuner in these speakers allows you to listen to your favorite radio show in high sound clarity.

iBall Dynamite Computer Multimedia Speakers
Enhance your music experience with the Iball Dynamite BT4 – 4.1 Computer Multimedia Speaker System. It provides high-impact Theater-like sound quality with deep bass. It comes with an attractive front panel with Woofer. It is a high quality 5.1 speaker with amazing sound and powerful Bass effects. This speaker system features Bluetooth connectivity that allows you to pair your smartphone and tablet. Additionally, you can play your favorite music using the AUX port, USB port or SD slot. Multiple Inputs: PC, SD/MMC. Built-in FM Radio.
INTEX IT-500B 5.1 Speaker
Intex IT 500B SUF 5.1 DVD Home Theatre is a complete home theatre with a total power output of 30 Watts. Get this Intex IT-500B SUF 5.1 speaker system to sort out all your worries regarding a utilitarian speaker unit that packs a punch. This speaker set is designed to excel and provide you an excellent sonic experience. It has a total sound output of 45 W and an RMS output of 30 W. Using the 3-mm audio jack, you can easily enjoy your favorites stored in your laptop, PC or mobile for hours. It uses a DC adaptor for power. There are options for both micro SD and USB 2.0 through which you can plug & play music directly from external devices. It supports Mp3 and WMA audio file formats.
Philips SPA7000B Multimedia Speakers
Buy the Philips SPA7000B 5.1 channel speaker and get your house party rolling with loud and clear audio output. Whether you're relaxing by watching a movie on TV, by listening to music or playing video games, you can enjoy the stunning sound clarity and a rich bass with this home audio system from Philips. This speaker system comes with a subwoofer, five satellite speakers and a remote control to play, pause and shuffle tracks. It is compatible with your MP3 player, PC, TV, CD, DVD and other audio devices. This audio system has a Bluetooth connectivity option, so you can easily connect it to Bluetooth-enabled devices like smartphones, tablets or even laptops, and stream your favorite music from them. You can also listen to your favorite radio channels every day as this system comes with built-in FM radio. With the help of the USB port and SD card slots, you can enjoy listening to your playlist without any hassle.