Are you looking for the best home audio system in India? There are too many models from so many brands in India that it becomes difficult to choose the home audio system according to your needs.
Music is an inevitable part of our daily life. A good sound system can provide an ultimate enjoyment from music. In our list, we have listed some of best audio system with the best brands, prices, sellers, specifications, and features in India.
Check out these speakers for the best surround sound quality and immersion. You can buy any of the best ones as per your need from this list. Good luck!!
Philips Heartbeat SPA-3800B
Get home this Philips Heartbeat SPA-3800B home audio speaker and enhance your audio experience. This home audio speaker set comes with Bluetooth connectivity which allows you to connect any device via Bluetooth and play music, watch movies from any Bluetooth device. You can easily access more music by transferring files to the speaker with a USB flash drive or an SD card slot. With 5.1 Surround sound and bass boost technology, you can enjoy listening to music and any audio in exceptional quality.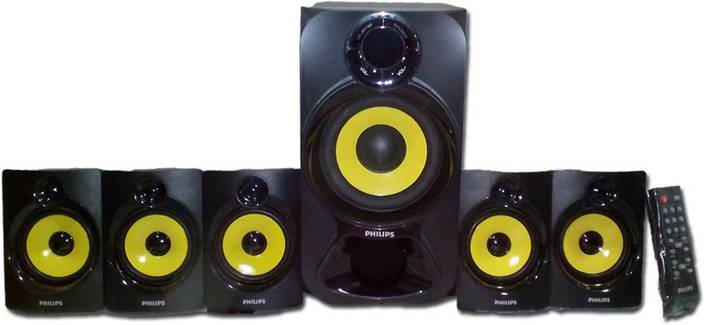 Sony BDV-E4100 5.1 Home Theatre System
Get this Sony BDV-E4100 5.1 Home Theatre System to sort out all your worries regarding a utilitarian speaker unit that packs a punch. This speaker set is designed to provide you an excellent sonic experience no matter what purpose you use it for. Sony BDV-E4100 5.1 Home Theatre System has a total RMS sound output of 1000 watts. You can now easily enjoy your favorites stored on your laptop, PC or mobile for hours. There are options for both micro SD and USB through which you can plug & play music directly from external devices. Further, the Bluetooth and Wi-Fi connectivity make it all the more desirable for music lovers.
Sony HT-IV300/M E12
The Sony HT-IV300 is one of the rare home theatre systems built to complement your daily TV watching experience. Watch your favorite movies, videos or listen to songs on this Sony HT-IV300 and have full enjoyment of your life. It is designed in such a way that you will never regret buying this compact in size 5.1 channel 1000 watt surround sound Home Theatre System. Along with all these varied options, Sony provides another amazing option which is, that this HT is Bluetooth and NFC enabled.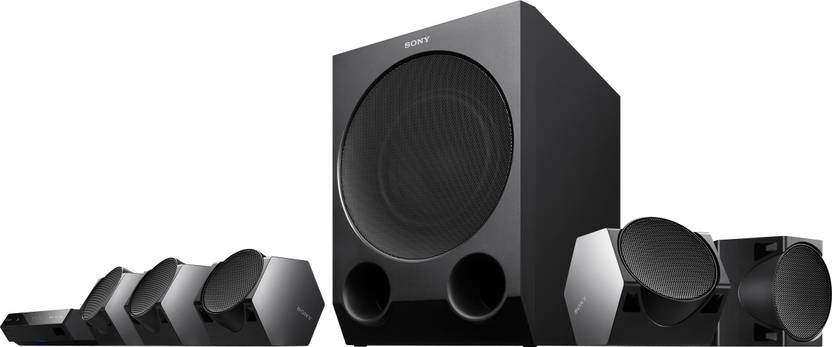 Samsung HT-J5100K/XL
Buy Samsung HT-J5100K/XL 5.1 Channel Home Theatre System online at best prices in India. It is designed to deliver deeper and richer bass. Vibrations radiate through the system to ensure all low notes are faithfully reproduced. Enjoy powerful sound that will make you feel as though you're at the cinema. Personalize your audio with user equalizer settings accessible on your main TV display. You can directly adjust the levels of each frequency band to perfectly suit the mood or your taste. Blur-ray player with USB and almost all format audio and video support.
Philips SPA8000B
Buy Philips SPA8000B/94 5.1 Speaker System at a low price in India. With 120W sound output and Bluetooth connectivity, these speakers are perfect for playing games, movies and online videos on Tv, Mac and Pc. Bluetooth is a short-range wireless communication technology that is both robust and energy-efficient. The technology allows easy wireless connection to other Bluetooth devices, so you can play your favorite music from any smartphones, tablets or even laptops including iPod or iPhone on Bluetooth-enabled speaker easily. The built-in FM tuner lets you enjoy your favorite songs or news from your radio station every day. Connect your speakers to all your gear.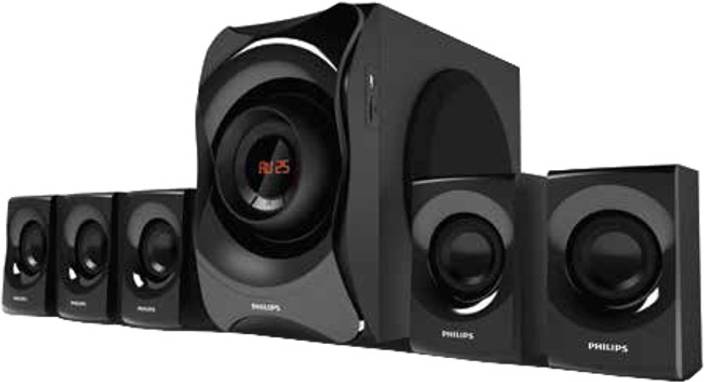 Sony DAV-TZ145 Home Theatre System
If you are planning to invest in a home theatre system, then you must consider opting for the Sony DAV-TZ145 5.1 DVD home theatre system. The Sony home theatre system comes with a vast variety of connectivity options with one HDMI output, one USB port, one composite video output and an audio line analog in/out. The Sony Home Theatre System comes with accessories that help ease your use of the system, which includes 5 speakers, 1 sub-woofer, 1 remote control, 2 batteries, 1 FM antenna, 1 video cord and 5 speaker cords.

Zebronics BT4440RUCF 4.1 Channel
Buy Zebronics BT4440 RUCF 4.1 Channel Home Audio System online at best prices in India. Equip your home with this set of Zebronics Bluetooth speakers and you can discover a whole new exciting way to watch movies and to listen to songs. Its built-in FM allows you to connect to FM radio stations for times when there's nothing interesting on TV. To play music or to watch movies through this speaker, connect your devices to it through its USB port, by inserting an SD card, or through Bluetooth.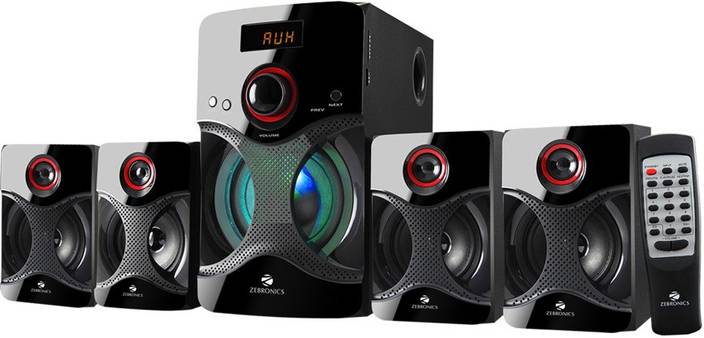 Yamaha Yht-2910 Home Theatre System
Buy Yamaha YHT-2910 5.1 Home Theatre System Online at the lowest price in India. Experience the best of sound with the Yamaha YHT-2910 5.1 Component Home Theatre System. This product comes with exciting features such as 1-year warranty, 5.1 channel output, Dolby digital sound and much more. It supports Laptop, iPhone, MP4 Player, MP3 Player, VCD Player, Music System, iPod, PC, TV. It has a 5.1 channel output which offers you one of the best sound qualities in its range. You can connect this speaker to a wide range of devices and enjoy hours of high definition music.

Intex IT-TW12006FMUB 2.0 Channel Tower Speakers
INTEX Speaker IT TW 12006 FMUB 2.0 Channel Multimedia supports with Mic/BT/USB/FM/AUX/DVD AUX audio input compatible with DVD/PC/TV. The surround capability is decent not the highest one. Bass is loud enough for small room environment. It's not for the people who always play great bass sounds if kind of struggles at that. There are a total of 4 circles on the front which brings out the audio for you. To be exact with the speaker's Height is 32.2 inches, width is 6.65 inches, and Depth is 13.5 inches.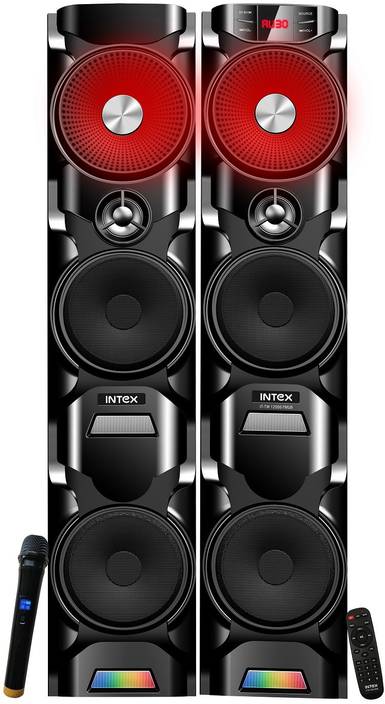 F&D T60X Tower Speakers
The F&D T60X tower speakers are sleek, trendy, and classic and designed for the ultimate acoustic sound. It includes a 3-way acoustic design and a 1-inch dome tweeter, making it ideal for a home theatre experience. You may also connect your device directly to the speakers as the Bluetooth and NFC allow you to seamlessly stream your music. Place it in a living room or a home theatre for an ideal movie watching experience as it is compatible with DVD, TV and mobile devices. It also provides connectivity with USB, AUX, and Bluetooth. Play your favorite music directly from your mobile device on the F&D T60X tower speakers. Featuring a built-in radio function, you can listen to up to 100 radio stations on these speakers. It also comes with a wireless karaoke function with which you can sing to your heart's content.