Are you looking for the best home speaker options for your home? With all different brands and choices available in the market, sometimes we get confused while selecting the best home speakers system.
In order to clear up this confusion, we come up with this exclusive list of the 'Best Speakers for Home in India' which enhances your experience of hearing the music.
To buy the best brand of speakers like Bose, F&D, Creative, Sony, Philips, iBall, and Logitech etc. check this directory for price lists. Good luck!!!
Bose Solo 5 Soundbar Speakers
Buy Bose Solo 5 Soundbar Speakers (Black) available at best price in India. The Bose Solo 5 TV sound system comprises a single soundbar that delivers distinctly improved sound quality for all your favorite TV programs. It brings clarity to your audio from dialogue to sound effects. You can position this soundbar practically anywhere and with Bluetooth technology built in you're able to wirelessly listen to your favorite music, too.

Sony HT-RT3 Sound Bar Home Theatre System
Enhance your home entertainment experience with the Sony HT-RT3 Sound Bar type Home Theatre System. It features Bluetooth connectivity to wirelessly stream music from your smartphone. The soundbar is equipped with a functional remote control that lets you adjust the settings. The subwoofer delivers premium sound quality with rich bass for an immersive experience. A total power output of 600 W gives every movie the thrilling soundscape it deserves. You can easily enjoy all your music and movies with USB video 1 and audio playback.

Philips SPA8000B/94 5.1 Channel Multimedia Speakers System
If you enjoy high-quality sound to match your well-designed television, this Philips Multimedia speaker 5.1 is the perfect buy for you. It has a number of highlight including Bluetooth connectivity, a bass level controller, 120W sound output and compatibility with your television and PC (even Mac)! The built-in FM tuner lets you enjoy your favorite songs or news from your radio station every day. Whether you are listening to music, gaming or watching a movie, one can immerse oneself in the sound. It has a wide range in term of compatibility with other devices. Therefore, you are able to connect it to your television, personal computer, MP3 player, DVD and CD players. It has a 1.3 m cable and an RCA x 6 connector.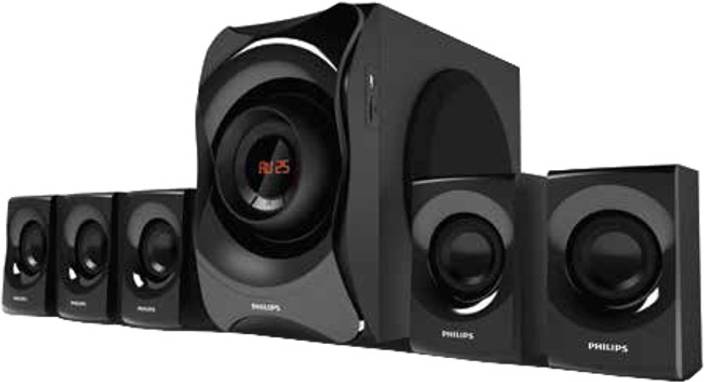 Philips HTL2163B/12 Bluetooth Soundbar Speaker
Buy Philips HTL2163B/12 2.1 Channel Soundbar available at best price in India. Philips Virtual Surround Sound produces rich and immersive surround sound from a less than five-speaker system. The Bluetooth connectivity gives it another dimension. This soundbar type audio system delivers rich base and high linearity be it for music, movies, or games. It can be easily connected to a number of devices like mobiles, laptops, DVD players and more using the different interfaces like an audio jack or an HDMI cable through its auxiliary or HDMI port respectively. It has an incredibly high sound output of 120 W RMS.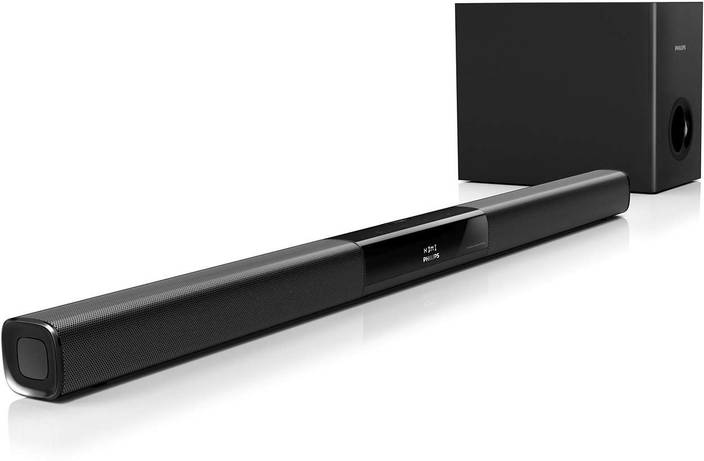 Logitech Z-623 2.1 Channel THX-Certified Multimedia Speakers
Logitech Speaker System Z623 delivers 200 watts (RMS) of power in THX certified system for big, bold audio. Multiple inputs let you connect your music, movie and gaming devices. With 400 Watts Peak Power and 200 Watts of the RMS power, the new Z623 Multimedia Speakers produces immersive sound quality. The 2.1 Z623 powerful multimedia speakers come with multiple input options through which you can attach it to your gaming consoles, computers, DVD players, PS3, Xbox 360, iPod, MP3 players etc. with utmost convenience.
F&D T60X Tower Speakers
F&D T60X Tower Speakers pumps out powerful, sweet-sounding PC audio at a nice price. They are great for music, movies as well as games. These speakers are sleek, trendy, and classic and designed for the ultimate acoustic sound. It includes a 3-way acoustic design and a 1-inch dome tweeter, making it ideal for a home theatre experience. You may also connect your device directly to the speakers as the Bluetooth and NFC allow you to seamlessly stream your music. Easily pair and play your tracks on these tower speakers by F&D.
Philips SPA7000B 5.1 Channel Multimedia Speaker System
Buy the Philips SPA7000B 5.1 channel speaker and get your house party rolling with loud and clear audio output. Sleek and elegant, this black Philips speaker comes with multiple connectivity options. Enjoy listening to music from your smartphone, laptop or pen drive as it comes with a USB port. You can download latest tracks on your memory card as it supports SD cards. Watch your favorite movies and enjoy a theatre-like feel with loud and clear audio by connecting it with an MP3 player. You can also connect it wirelessly to your Bluetooth enabled devices as it comes with Bluetooth technology. Keep yourself entertained all the time as it also comes with an FM Radio.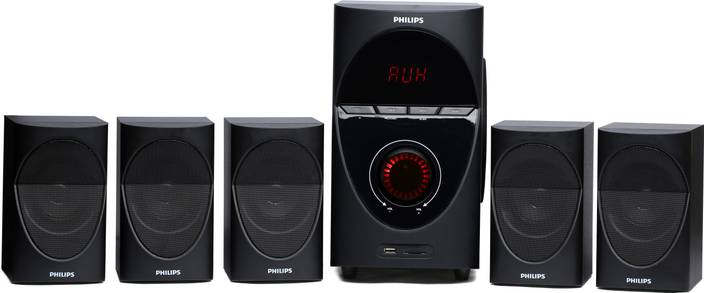 Sony SA-D10 4.1 Channel Multimedia Speaker System
This Sony SA-D10 4.1 Speaker System will give you the perfect sonic experience. With a maximum output level of 70W, the speaker system offers a number of connectivity options and will easily connect with a plethora of compatible devices allowing you the extraordinary flexibility to play your music from. This 4.1 Sony speaker system features USB playability. That means it can be easily connected with any USB compatible device like desktop and laptop computers, smartphones and tablets, pen drives and Flash memories, USB memory card readers etc. through its single USB port.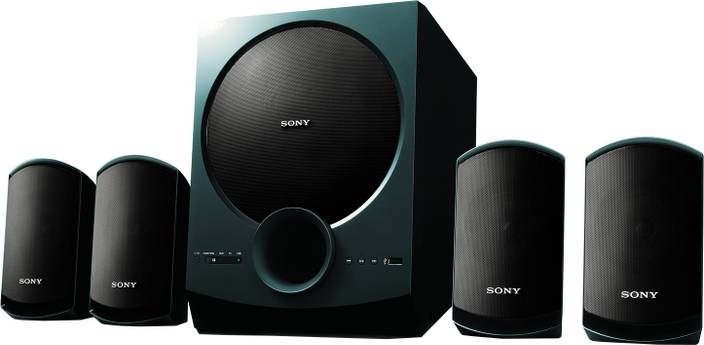 Creative Inspire T-6300 5.1 Multimedia Speaker System
Let the Inspire T6300 5.1 surround speaker system elevate your movie, game and music experience to new heights! With Creative's Dual Slot Enclosure (DSE) design, the speakers are ingeniously constructed to produce louder, more pronounced mid-bass out of their compact shells. The speaker system comes with bold front satellites, smaller rear and center satellites, plus a powerful down-firing ported subwoofer for explosive bass. It makes the perfect complement to any desktop computer. Surround yourself with the most compelling 5.1 audio experience today with the Inspire T6300!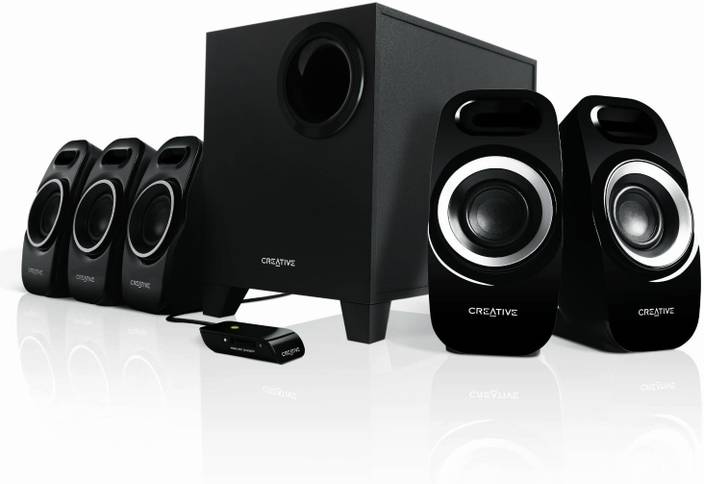 F&D F3800X 5.1 Speaker
Bring home the F3800X 5.1 Speaker System with Bluetooth/USB/SD/FM that is offering an ultra-modern super stylish body with an enhanced sound system. You can enjoy the content from your smartphones and tablets supporting the Bluetooth (A2DP), MP3 player, PC, TV, CD, DVD, and all your media stuff at the very next instant. It provides a brilliant output power of 80 W. You get an innovative automatic multi-color LED which will bring an enhanced outlook to your home entertainment attire.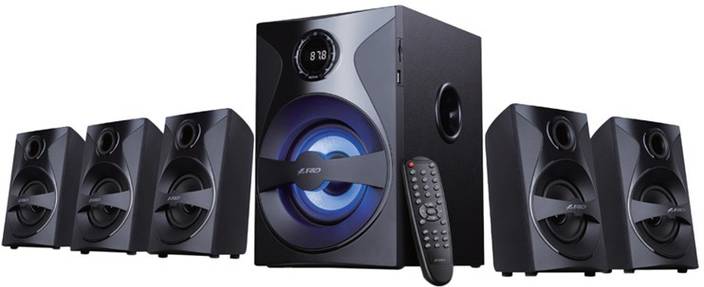 iBall Booster 5.1 USB/SD Multimedia Speakers
The iBall 5.1 booster speakers are ideal for people who want to enjoy the ultimate listening experience. Stream music wirelessly through any Bluetooth enabled device. The 5.1 speakers come with one subwoofer that helps in reducing the unwanted noise to give you unadulterated sound. With a high signal-to-noise ratio, this iBall speaker system works excellently well when it comes to removing the impurities from the sound. It can easily be connected to other devices such as Walkmans, MP3 Players, PCs, and so forth.